WHAT'S NEW WITH US ?

Find Us On: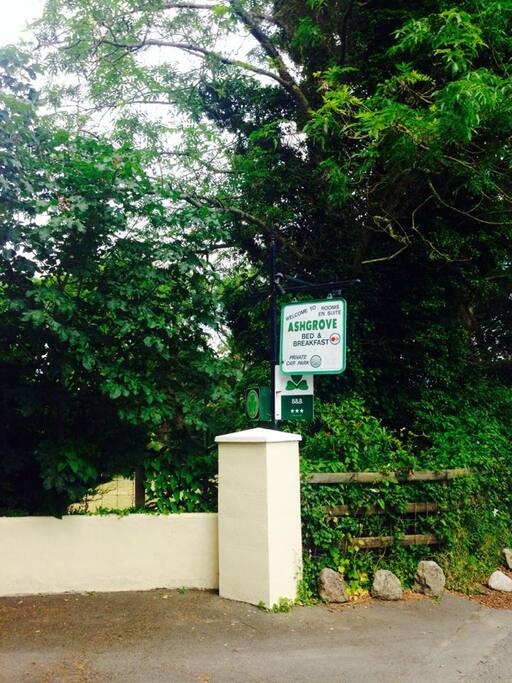 Ashgrove B&B
Wicklow, Wicklow, Ireland
I Roísín Bunn have been running Ashgrove B&B since 2002. I love the career I chose. My path in life has been hospitality and I find it to be a very enjoyable. I love making sure all of my lovely g...

Our Bookings & Our Tour




Bookings available from March to the end of October. Please click on the bookings.com logo below to book your stay with us online.









Our Facilities & Reviews






All the rooms are ensuite and include tea & coffee making facilities, TV and hair dryer
On arrival, we can meet the gests on The Beehive Restaurant on the N11 and lead them to the house
We offer the guests information on the restaurants of their choice & can organise transport

Guests sitting room
Private carpark
Front and back garden

---
OUR Rooms
Our Great Rates and Special Offers are varied between week and weekend rates.
Peak and off peak rates.
Just enter your dates into
booking.com
to get our prices and offers.
Or call us on +353(0)40469750 or +353 (0)87 124 8288
Our Rooms Selection:
TWIN ROOM

DOUBLE ROOM

FAMILY ROOM
---
BRAy air festival 2016
​
Check out Bray Festival at the moment. Carnival and entertainment in all the establishments outdoor/indoor its the place to be.
AIR BRAY FESTIVAL 2016
Check them out on Facebook too,
Click this link!


​Places near us to check out on your stay!



The Beautiful POWERS COURT HOUse ANd Gardens

The Japanese Garden looks
in spring when the azaleas are in full bloom and their blossoms perfume the air, and in autumn with the vibrant colours of the Japanese maples. Stone lanterns guide you through the winding paths of the garden, bringing you to its innermost circle. Here you will find a Pagoda and a trickling stream under pretty Japanese bridges. The next circle is marked by a ring of Chinese Fortune Palms, which have been cultivated in China and Japan for thousands of years and were first brought to Europe in 1830. The upper circle provides stunning views of the Japanese Garden and the Sugar Loaf Mountain in the distance. There is a beautiful concept behind each of these circles: working inwards, we discover our inner selves; working outwards and upwards we gain greater knowledge of the world around us.Sourced:
http://powerscourt.com/gardens/japanese-garden
Ashgrove B&B
P: 0404 69750 - M: 087 124 8288
ashgrovebandb@gmail.com